Yiwu, a globally well-known inland port in China and the largest small commodities distribution center in the world, plays a predominant role in the commercial activities. Right now, Yiwu has a new name tag. It becomes the new traffic hub. In principle it's simple, but it means a lot more than that.
First, Yiwu becomes the center of Zhejiang "1-hour inter-city traffic circle". Its connection web is well expanded to the utmost. Yiwu-Wenzhou Railway project officially got started construction on Mar. 9th. In addition to the ongoing projects like Yiwu-Ningbo Railway, and Yiwu-Jinhua Quick bus lines, Yiwu passengers now can arrive in any city within 1 hour, which make Yiwu as the center of Zhejiang.
Second, Yiwu earns an obvious geographic advantage on the international logistics. Yiwu is the start point of the active Yiwu-Ningbo Port-Zhoushan Port Passage, which is deemed as the most complete, deepest and most covering plan so far in Zhejiang Province. It will definitely bring more strategic opportunities for Yiwu in its docking with international transportation. Another huge project is the Yiwu-Europe International Railway Lines. As we have concerned, it has achieved an unprecedented good performance on implementing One-Belt-One-Road Initial. It helps Yiwu build a new open economic pattern, and proves its unique strategic advantage one more time.
Yiwu has such a predominant role in the geographic strategy that it will become a global hub in the future.
On the one hand, keeping quickening the logistics flow, visitors flow and information flow to another level certainly will make Yiwu's economy be in a state of constant flux. At present, there are ten more projects steadily progressing right now. Fang Xiaming, official from Yiwu Development and Reform Committee, declared that "For Yiwu, each project doesn't mean a simple additive effect; instead, it is going to be a huge multiplication effect." As we all known, after those railways officially running, the special "Siphonic Effect" will attract limitless talents and investments coming to Yiwu. "Yiwu will become the fourth largest metropolis core city in Zhejiang after Hangzhou, Ningbo and Wenzhou. It probably becomes the Zhejiang Central Wall Street, the best marketing platform for Yangtze River Delta, even China to expand their market to global ones. "
On the other hand, Yiwu becomes a strategically important bridgehead in the international logistics. For now, Yiwu has the Yiwu-Europe International Railway Lines and Yiwu-Beilun Rail-Ocean Joint Lines, generating more available options for international buyers. Meanwhile, Yiwu has 1,056 freight agents, and over 100 air freight forwarders. 4 global couriers and 12 well-known marine companies have established branches in Yiwu. Such a strong and complete logistics service provider web guarantees Yiwu's special role as the global hub.
But how can Yiwu smoothly transit from the old commercial hub into a global hub city? Fang told us there are two steps. The first step is to develop both tangible part and intangible part. The tangible is the real logistics web; the intangible is the online economy and big date. The second step is to keep interconnecting each logistic link, aiming to stimulate the intangible economy.
China has transited into the new economy era
China has transited into the new economy era. Online store and courier service are the most featured intangible representatives. Both two have made a crucial contribution to fuel up Yiwu's economic growth. In Yiwu market, many traditional commercial models have successfully transited into the new economy model with the help of Internet and big data. What's more, taking the advantage of the emerging transportation new hub, Yiwu maps out its strategy to cultivate more influential industries such as data information industries, innovative designing, advanced manufacturing, tourism and education research.
Concerning about how to attract influential companies and investment, Yiwu has its plan to build a competitive industry city. When speaking of Yiwu commodities, people will relate it to generic, cheap and low value widgets. Thus, first but the most things are to increase extra values and indulge into brand construction. Yiwu plans to start to build a full high-valued industry line integrating smart, commercial service, research and tourism into a whole.
With the target above, since from 2014, Yiwu has started to develop its fashion industry, information economy, high-tech lines, and biologic food medicine, by means of strengthening innovation and attracting investment. Two years passed, Yiwu achieved a big progress on its industry transformation.
Yiwu economy has entered into a new period. As a newly emerging hub city, what new possibilities Yiwu can generate for high-tech industries? Jia Wenhong, Director of Yiwu Economy and Information Technology Committee revealed, "Next step, Yiwu will make the most out of the Yiwu-Ningbo Port-Zhoushan Port Passage, and expedite the industry transformation process, aiming to build a high-end and competitive industry city concentrating on environment recycling, high-tech, innovation and craftsmanship".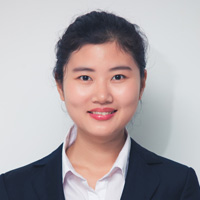 Sheena Lee
Author