People are craving for success, and Yiwu people never stop pursuing their success. In Yiwu, don't be surprised by an elder who are still strongly feel he can do anything.
Three years ago, I came to Yiwu and found the family here. To be honest, it's kind of a tough experience at first. Just moved from Hangzhou, the big provincial city of Zhejiang, it only takes me half an hour to arrive in Yiwu by G-train. But that's not the point. As for me, the thing is how to clear up the big gap between my expectations. Yiwu is a small city in the central Zhejiang. No spacious street, nor the fancy decoration, Yiwu streets are often occupied with traffic. Impoliteness seems to be always the case. Spitting improperly and house trash are spotted randomly on the street. Private cars invade the public path. You might be thinking who the hell would like such a place? However, believe it or not, Yiwu is a magic city. It has the power to let people stop by Yiwu and love to live in Yiwu. Three years' experience is not the enough time to dig out every personal reason for loving Yiwu, but at least, it's sufficient to tell what those powers are.
Power 1-Market
People come to Yiwu to make money. It's a small city but called as the world's largest small commodities wholesale center. Yiwu International Trade City, composed of five connected districts and covering up 4 million square meters, takes up a large area of the city. It holds 75,000 booths and provides over 1.8 million product species within 43 categories. With its cheaper price and wider product availability, global buyers are gathering here to do business. Statistics showed that about 40,000 new visitors would come to Yiwu market on business purpose every day, including 5,000 foreigners. Many notable marine companies have set up their branches here as well. All transactions happened in Yiwu can generate about average 1,000 standard containers each day. So far, Yiwu has reached business relationship with more than 219 countries and regions. We must say, it has become the worldwide largest wholesale hub. That's the predominant power as far as we all know.
Power 2-People
Most of the people in Yiwu are non-Yiwunese. Chinese migrant workers and foreigner are making up two thirds of the population there. The prosperous commercial activities and vibrant market environment have born tons of job opportunities. People from different places are coming here to seek for their roles.
What's the most notable is, Yiwu has the largest number of foreign settlers in a county in China. About 15,000 foreigners are permanently having their home in Yiwu. Some of them are married with locals. Yiwu government puts a high premium on catering to foreign businessmen's requirements. They made favorable policies and let foreigners enjoy the same fair and competitive business opportunities. They can speak up their voices freely and Yiwu government would like to make their voice heard by everyone. Yiwu is the only city in China inviting foreigners to attend the Congress Conference. Up to now, the foreigner number has been rising up to 7% of the total population pool in Yiwu. Hindus and the Arabs are often seen on the street.
Power 3-Yiwu Spirit
Yiwu market's history could be dated back to 30 years' ago. Yiwu people are proud of their achievement to turn a poor and mountainous city into the world's largest small commodities wholesale and shipping center. With one pole and two baskets of brown sugar, Yiwu ancestors had walked through a rough and tough road. But with their consistent hard-working, determination and resilience, Yiwu people created a special road to success. Depending on their sharp insight on the market and keen on the change, Yiwu market came into being. In the last 30 years, Yiwu people have been focusing on one thing, that's building and expanding the market. With blocks of markets rising up now, Yiwu people insisted on making it better.
There remains a strong feeling of pride between Yiwu people. They are proud of their people's achievement, and be appreciated to admit their ancestor's contribution to the city's progress. They believe they are endowed with such an unyielding spirit and perseverance. People are craving for success, and Yiwu people never stop pursuing their success. In Yiwu, don't be surprised by an elder who are still strongly feel he can do anything. Don't conclude anyone's life as a success or failure, because every Yiwu people is in the process of pursuing success.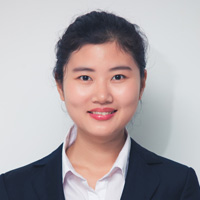 Sheena Lee
Author